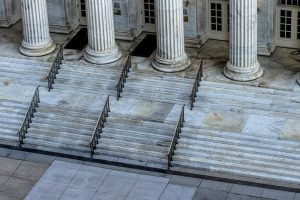 In this patent infringement action, the defendant moved to dismiss the plaintiff's complaint for the plaintiff's failure to participate in discovery and for ignoring several court orders. The motion explained that dismissal sanctions were appropriate in the light of, among other things, the plaintiff's failure to comply with court orders, sanction order and to appear for a court hearing.
In analyzing the motion, the district court explained that Federal Rule of Civil Procedure 37 empowers the district court to compel compliance with discovery procedures though a broad choice of remedies and penalties, including dismissal with prejudice. Griffin v. Aluminum Co. of Am., 564 F.2d 1171, 1172 (5th Cir. 1977). "Dismissal of a complaint with prejudice is such a drastic remedy that a district court should only apply it only in extreme circumstances." Id. However, dismissal with prejudice may be appropriate where a plaintiff's failure to comply involves "either repeated refusals or an indication of full understanding of discovery obligations coupled with a bad faith refusal to comply." Id.
The district court concluded that dismissal with prejudice was appropriate under the circumstances. As noted by the Magistrate Judge, the plaintiff had "willfully, in bad faith, and in disregard of his responsibilities failed to comply with the Court's Order." Furthermore, since the case was filed eight months ago, "Plaintiff has been sanctioned twice and has failed to: respond to an order to show cause; timely file a case management report; appear for a hearing; comply with the Court's Order compelling discovery; and, most recently, respond to three separate motions by Defendant." The district court found that these repeated violations establish a "clear record of delay or willful contempt," far beyond mere negligence or confusion. See Goforth v. Owens, 766 F.2d 1533, 1535 (11th Cir. 2010). Given these "extreme circumstances," the district court determined that dismissal with prejudice was warranted. See Griffin, 564 F.2d at 1172.
Accordingly, the district court dismissed the complaint with prejudice.
Askan v. Faro Technologies, Inc., Case No. 6:18-cv-1122-Orl-40DCI (M.D. Fla. March 11, 2019)
The authors of www.PatentLawyerBlog.com are patent trial lawyers at Jeffer Mangels Butler & Mitchell LLP.  For more information about this case, contact Stan Gibson at 310.201.3548 or SGibson@jmbm.com.